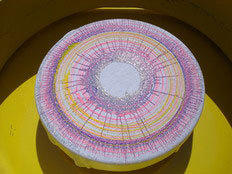 Spin Tee Machine
Children and adults love this creative activity! Guests easily create their own T-shirt artwork that's ready to wear.
Spin-Tee allows your child and their friends to make unique, one of a kind, works of art that they can wear.
Each participant gets to drop various colors or paint onto their shirts and watch the transformation happen as the design spreads and comes to life.
Toddler/Youth/Adult shirts available.
Minimum 7 day advanced notice required to order shirts.
Shirts are ordered seperately.
If you purchase your own shirts, you must supply your own paint. We recommend Tulip Slick or Glitter paint. Do NOT use puffy paint. Paint can be purchased at Hobby Lobby, Michael's, or a similar store.
Spin Tee is delivered and picked up at the same time as the other party items rented, unless other arrangements have been made prior to your event.
Just need the spin tee machine? Call our office to arrange a pickup at our warehouse in Fox Lake, IL.