Tent, Table, Chair & Linen Rentals
Bella's Bouncies offers easy online ordering. Look through our large selection of Tent, Table, Chair & Linen Rentals below. You can click any picture below for additional information, or click on 'ADD TO CART' to check availability and start the reservation process now!
Tents are typically setup the day before your event and picked up the day after your event. We do NOT schedule tent setups that must be setup and taken down the same day. If you are not available the day before your event for setup, you must call our office prior to booking to discuss.
Tents must be scheduled a minimum of 7 days in advance so we can call JULIE and have the utilities in your yard marked.
Tables, Chairs, and Linens are delivered and picked up at the same time as the other party items rented unless other arrangements have been made prior to your event.
Bella's Bouncies will setup the tent. Customer is responsible for setup and take down of tables, chairs, and lines. Setup and take down is available for an additional fee.
Just need tables, chairs, and linens? Call our office to arrange a pickup at our warehouse in Fox Lake, IL.
Prices shown below are for up to a 7-hour Party Rental time frame for each CATEGORY. Additional information about Party Rental times, as well as, other Company Policies can be found on our FAQ's page. Additional delivery rates and/or fees may apply. Check out our Service Areas page for a complete list of delivery cities and fees.
Tent Rentals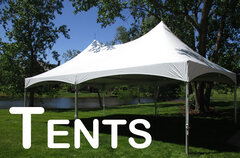 Table Rentals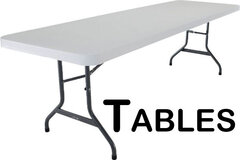 Chair Rentals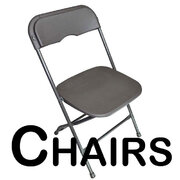 Table and Chair Linens