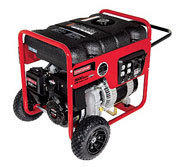 Generator (with full tank of fuel)
Generator only $115 with inflatable rental. Comes with a full tank of fuel. Additional 5 gallons of gas can be purchased for $35.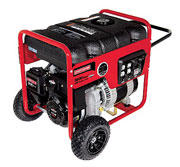 DEPENDING ON THE LENGTH OF YOUR EVENT, FUEL MIGHT NEED TO BE ADDED TO THE GENERATOR. IN THE EVENT FUEL NEEDS TO BE ADDED, THE GENERATOR MUST BE SHUT DOWN, COOLED FOR A PERIOD OF APPROXIMATELY 5 MINUTES, THEN FILLED WITH FUEL. WHILE THE GENERATOR IS SHUT DOWN, THE EQUIPMENT RUNNING OFF OF THE GENERATOR MUST ALSO BE SHUT DOWN. IT IS A FIRE/SAFETY HAZARD TO FILL A GENERATOR WHILE RUNNING. NO EXCEPTIONS CAN BE MADE TO THIS POLICY.
Not eligible for discount.